AudioCodes' MediaPack 1xx series of Analog VoIP Gateways are cost-effective, stand-alone VoIP gateways that provide superior voice technology for connecting legacy telephones, fax machines and PBX systems with IP telephony networks and IP-based PBX systems. We have included a configuration guide below designed to help you configure your Audiocodes MediaPack MP1xx system to use your SIP trunk account from T38fax.com!
This guide assumes that you have already configured your device to work within your network, accounting for such things as Network Address Translation (NAT) and Port Forwarding/Opening/Etc. via your Firewall/Routing equipment. We've separated this guide into sections to correspond with the Audiocode's web interface configuration system. Always make sure that you follow the on-screen prompts when asked to save your configuration and/or reboot the system.
---
Media
Fax/Modem/CID Settings
Here, you will want to disable all of the V.XX modem transport types, while making additional changes to the rest of the configuration. Be sure to set the following:
Fax Transport Mode: T.38 Relay
Fax CNG Mode: Sends on CNG or v8-cn
CNG Detector Mode: Relay
Fax Relay ECM Enable: Enable
Fax Relay Max Rate: 14400bps
Take a look at the screenshot below, your configuration should closely match what we have defined here: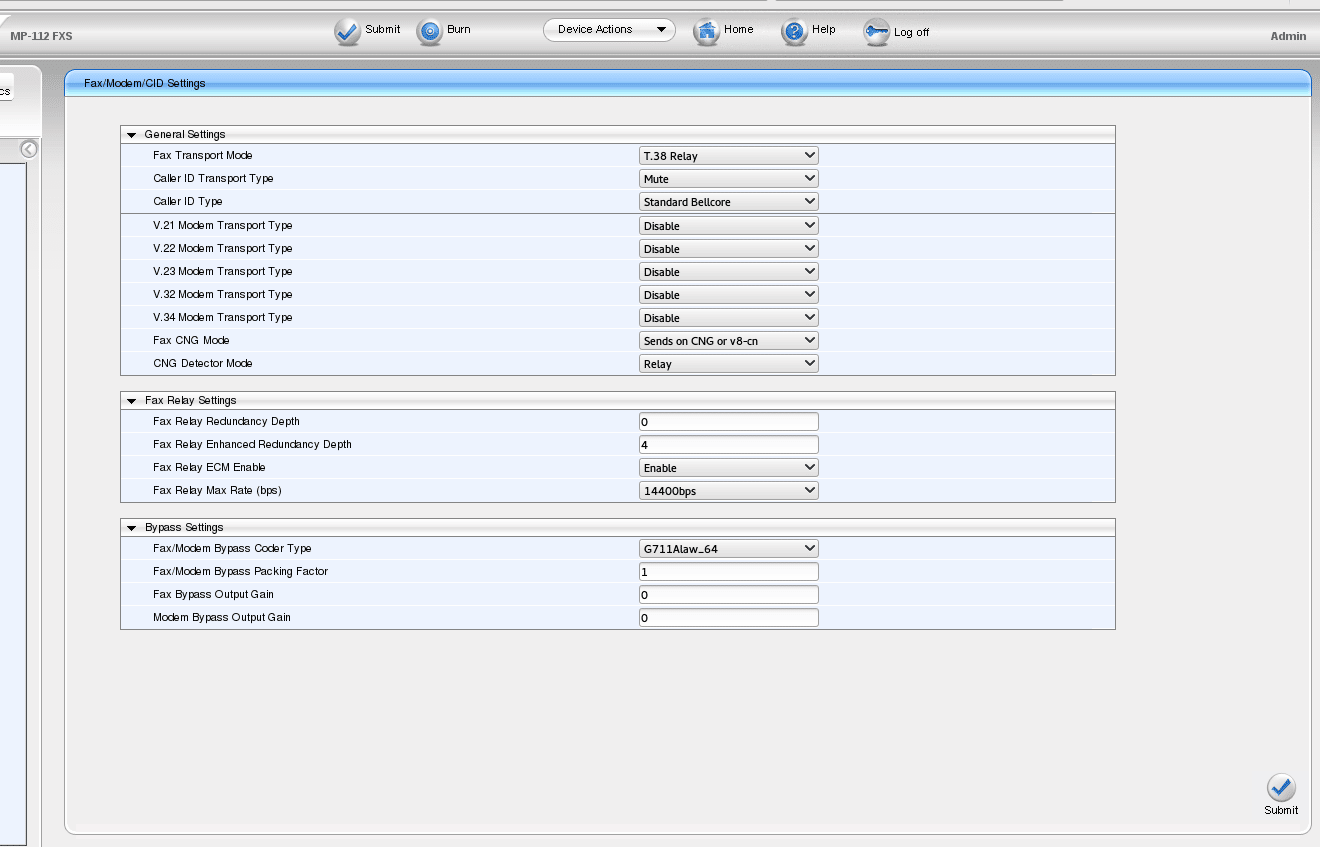 RTP/RTCP Settings
Here, you'll want to adjust the payload types, as well as the base UDP port for our RTP packets. T38fax.com operates comfortably having RTP available from ports 10000-20000, so we'll set that here. Compare the settings in the screenshot below to your current settings, and make adjustments as required: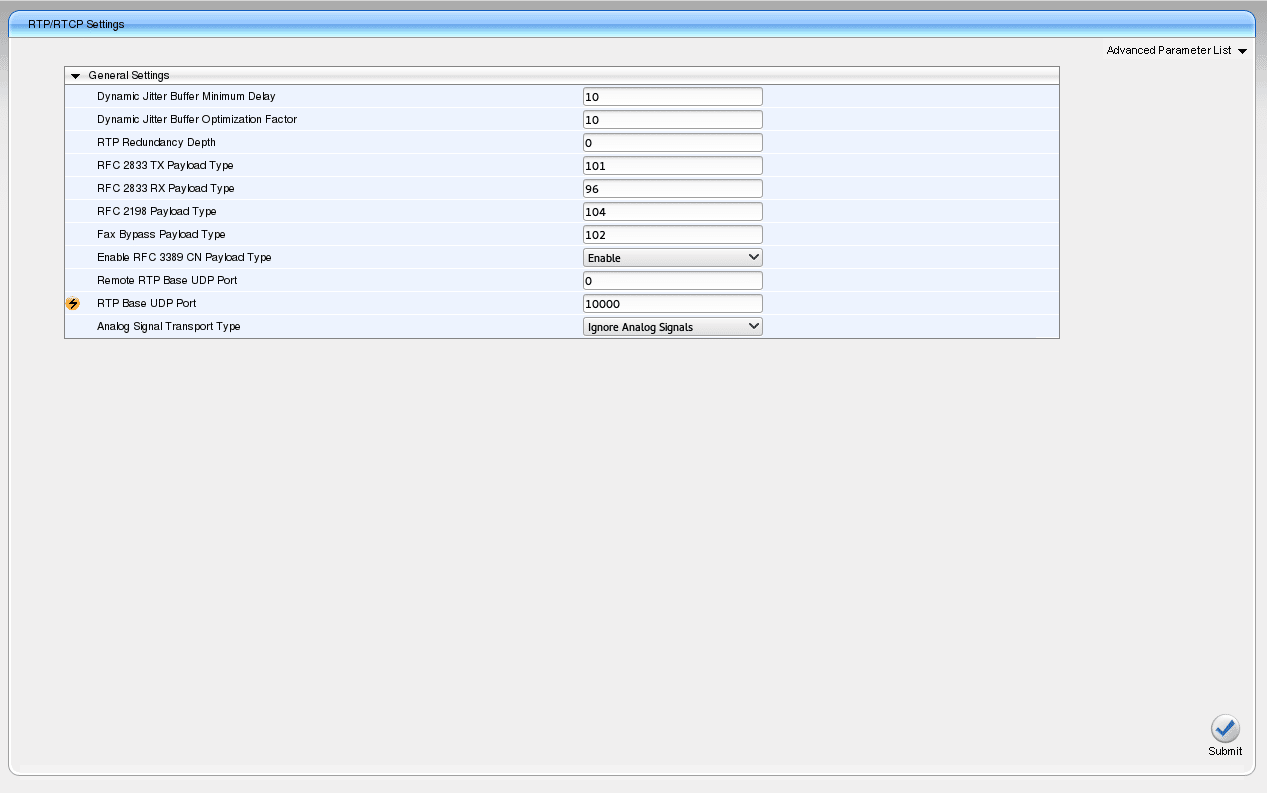 Control Network
Proxy Sets Table
Here, we'll add a definition to the Proxy Sets Table for the gateway to find our SIP service, and register to it. (Credentials are added later in this guide.) Add sip.t38fax.com to your #1 Proxy Address, and assign it a UDP Transport type. See the screenshot below: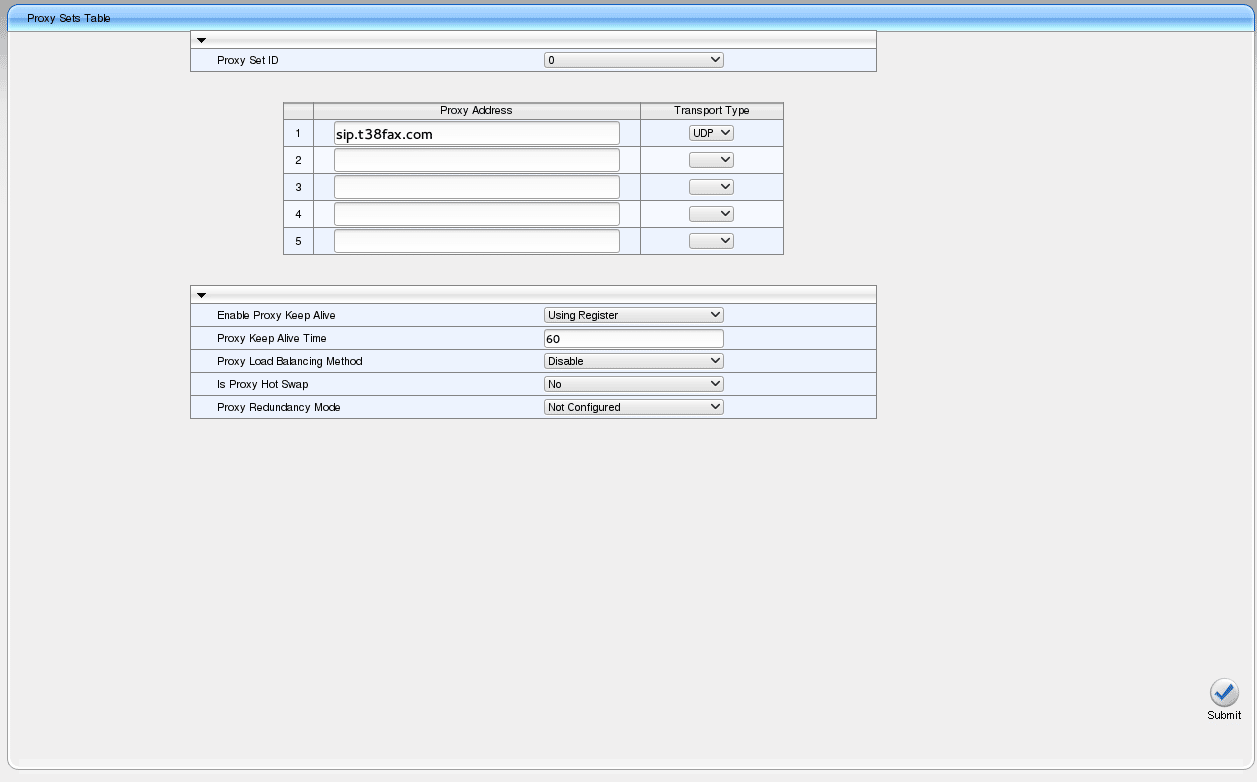 SIP Definitions
General Parameters
Here we will configure some of the essentials required to successfully integrate your T38fax.com SIP trunk into your Audiocodes device. In the general parameters, be sure to set the following:
Enable Early Media: Enable
Session Expires Method: re-INVITE
Fax Signaling Method: T.38 Relay
SIP Destination Port: 5060
You can compare your settings to the screenshot below: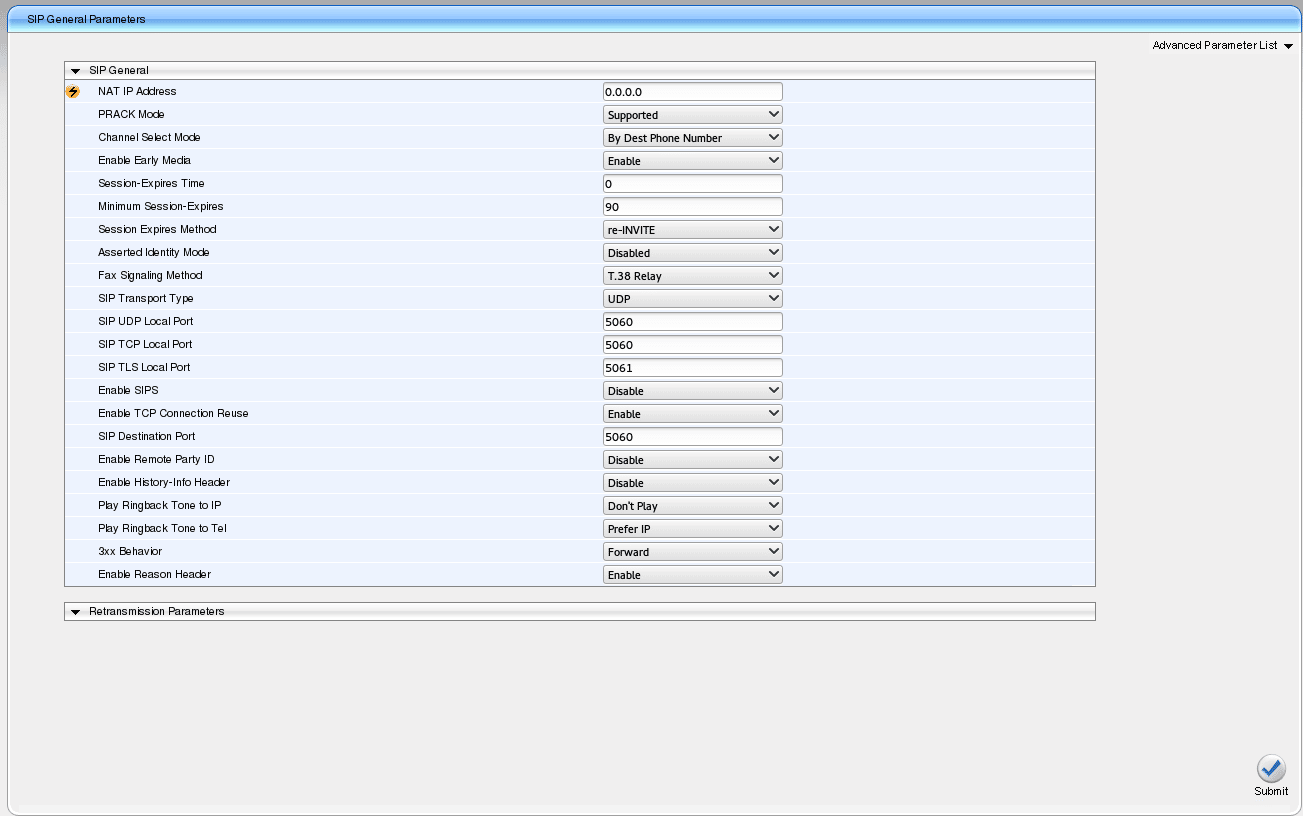 Proxy & Registration
Here is where we'll define the method in which we'll register with your T38fax.com SIP Trunk account. Set the following options:
Use Default Proxy: Yes
Enable Registration: Enable
Subscription Mode: Per Endpoint
Registration Mode: Per Endpoint
We'll set the username and password later on in this configuration guide, but at this point your configuration should match the screenshot below: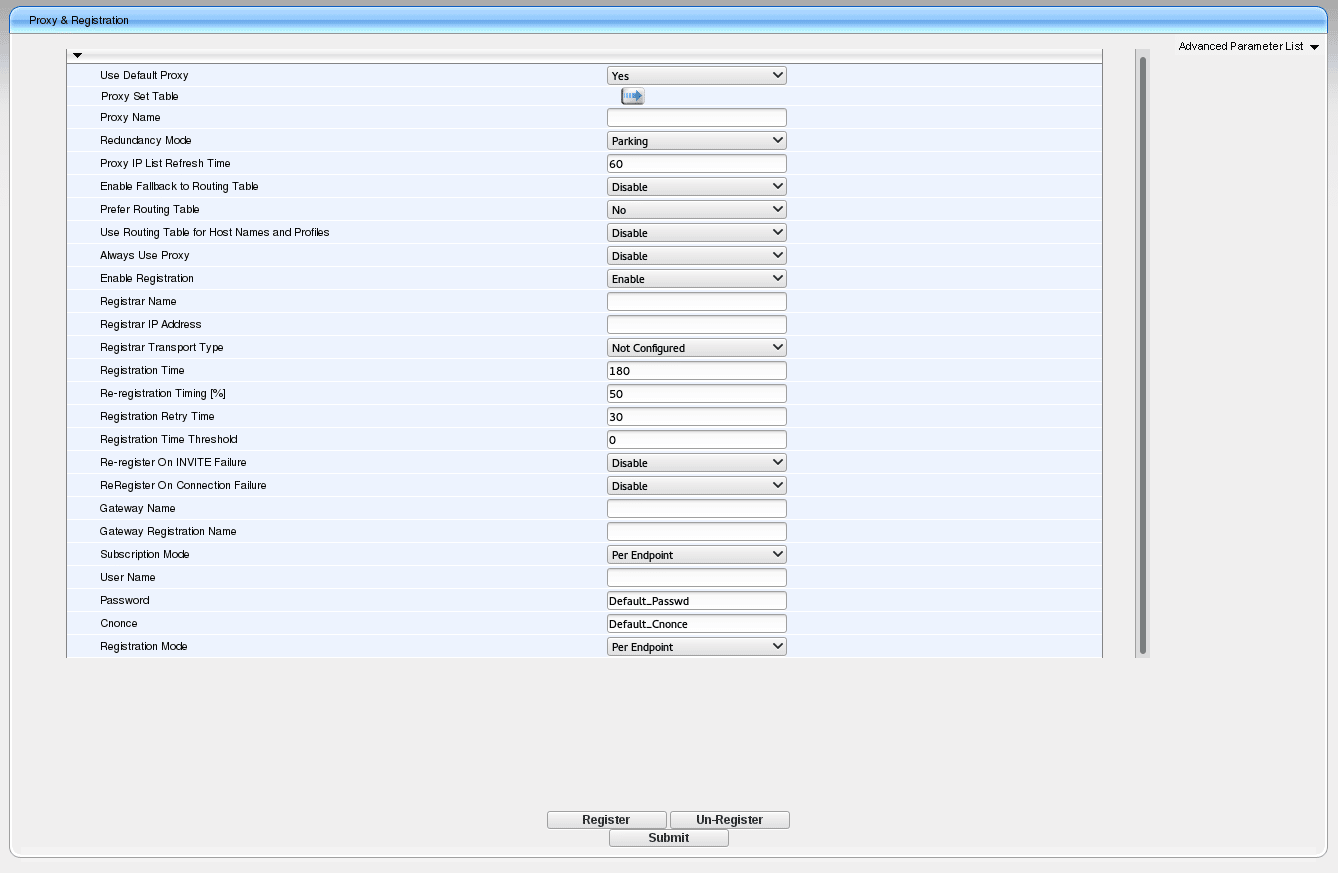 Coders & Profiles
Coders
Here, simply switch out the default G.711/ALAW for it's ULAW counterpart. See the screenshot below: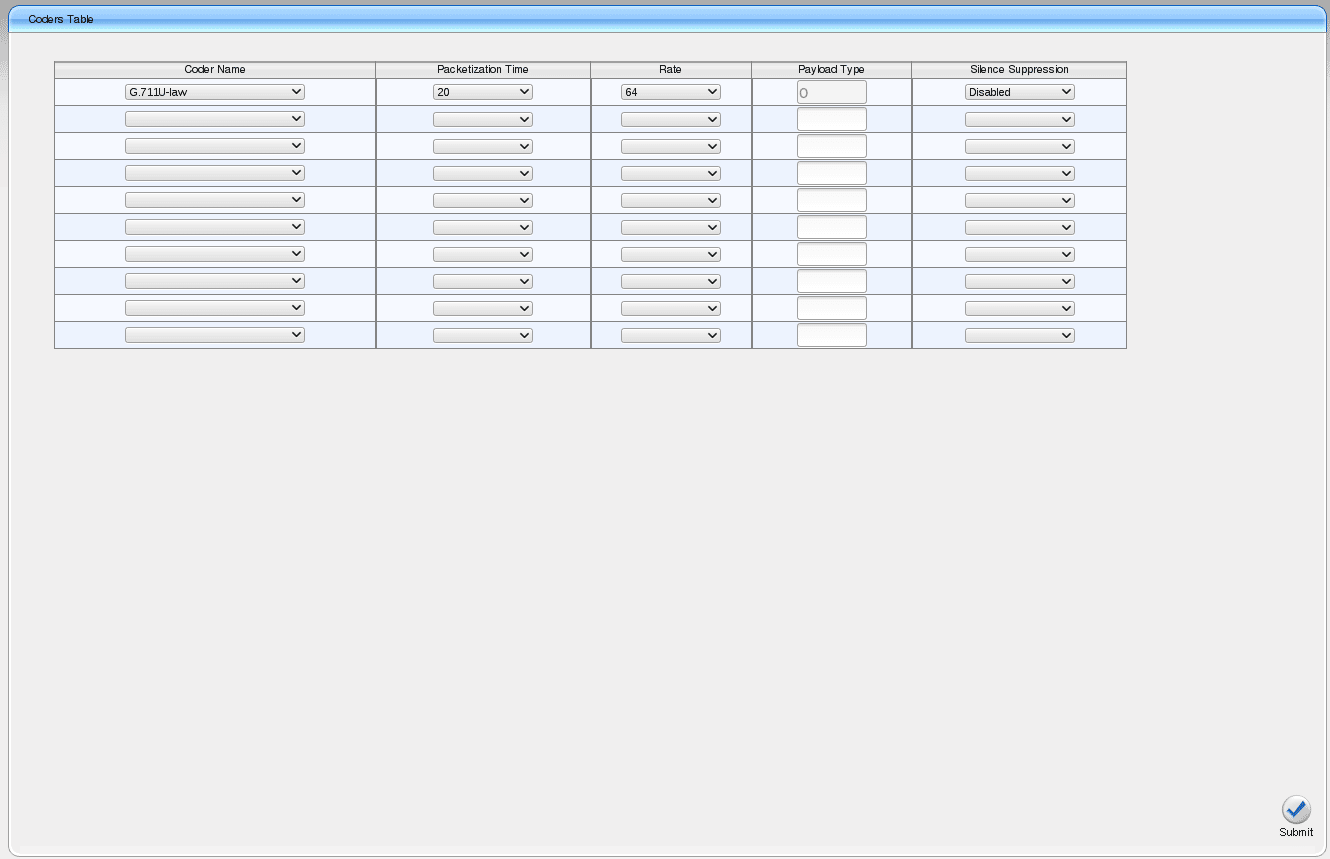 IP Profile Setting
There are a few small adjustments that need to be made in this menu. First, set the Fax Signaling Method to T.38 Relay if it's not already populated, and be sure to enable early media as well. Your profile should match the one shown below: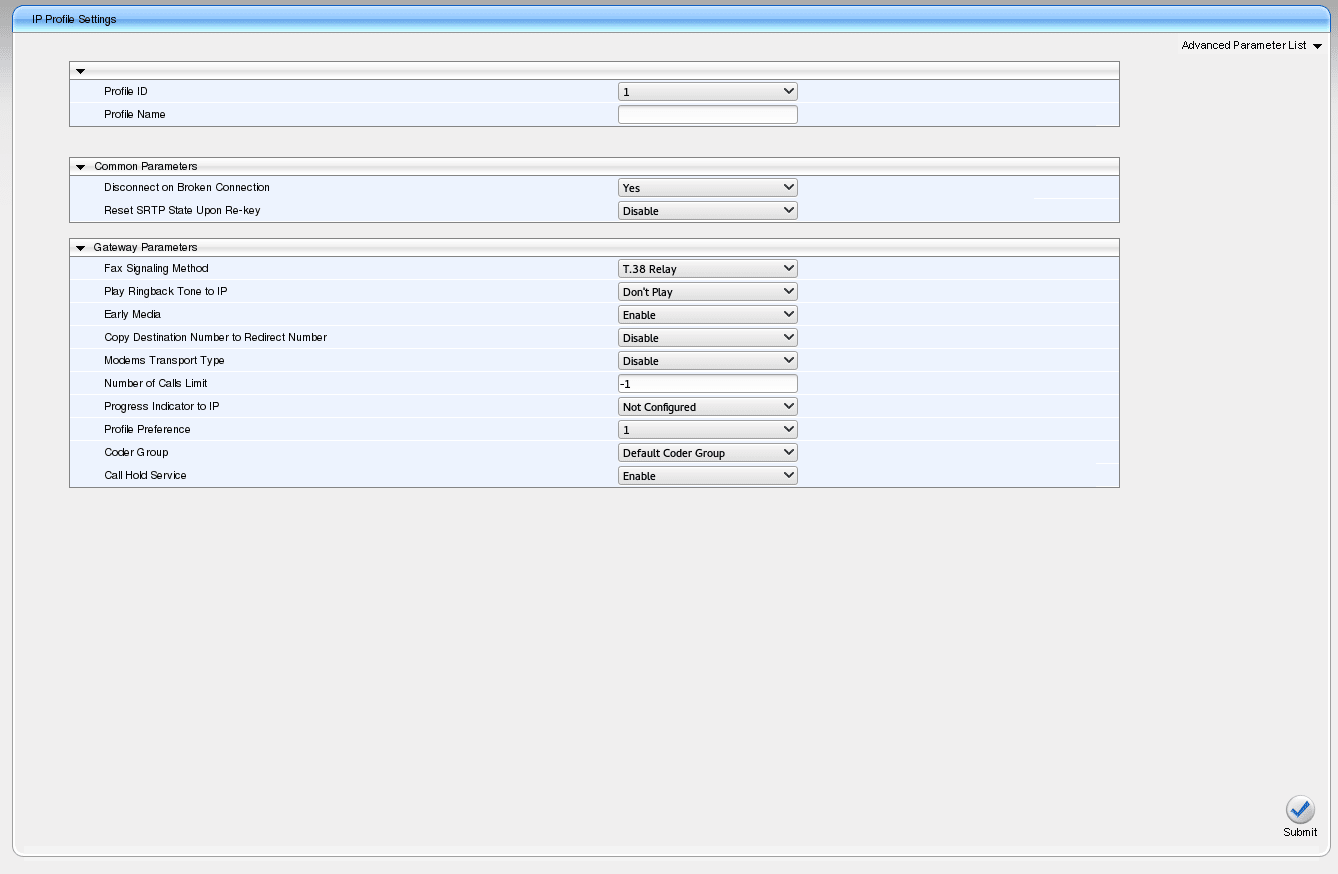 GW and IP to IP
Hunt Group: Endpoint Phone Number
Replace the phone number here with your T38fax.com DID, otherwise your settings should match:

Routing: IP to Hunt Group Routing
Again, your settings should match the screenshot below:

DTMF & Supplementary: DTMF & Dialing
An additional screenshot that should match on your configuration:

Analog Gateway
Authentication
Complete this section with your T38fax.com DID and Password to register to your account:

That's it! This should complete this configuration guide, and you should be able to make and receive fax calls from your
T38fax.com
account. Need help? Open up a support ticket and one of out Support Engineers will assist you in setting up your Audiocodes device!